Title: TKO
Author:Vamphile
Pairing: J2
Rating: Overall R, This part PG-13
Word Count: 6500+/-
Summary Jensen is an ex-con with a clean slate. Jared owns an MMA gym. They like each other, a lot.

A/N: General Warning, sad and angsty in places, D/s themes but by no means a porn fic.
This fic is complete in eight parts. I will post on Tuesdays and Thursdays.




TKO One ~ TKO Two ~ TKO Three ~ TKO Four ~ TKO Five ~ TKO Six ~ TKO Seven ~ TKO Eight




Thanks to:
passing_through for the beta work. Even when you didn't get it, you were there for the story. Thank you darlin'

Graphics by:
raeschae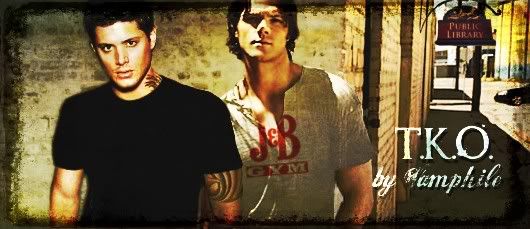 ---
TKO
Round One
---


Jensen sat, his knees bent, his back against the chain link, sifting through the wrinkled paper bag they'd handed him twenty minutes ago. He counted out the nine hundred and thirty six dollars twice before putting it into his wallet, along with his issued transit pass, and attached the chain to his belt loop. He put the black hoody on, although it was still warm enough for him not to need it. All that was left was the manila envelope full of information about the conditions of his parole. Where and when his first meeting was with his parole officer.

He leafed through the papers twice before he got bored. He was out, free, but it was dinner time and he was outside the gates hungry, while everyone inside was at least eating. He hadn't thought he'd miss prison, but he missed it, even when he could still see the fences and barbed wired. Even when he could still make out the guard in the tower.

Three hours after his release a bus stopped and Jensen climbed on, keeping his head low, swiping his card and finding a seat in the back.

The parole office was closed for the day, and his appointment wasn't until the day after tomorrow. He couldn't think of anyone to call. On the list were a few motels that had weekly rates. Across from the nearest motel was an old house with a sign in the window. "Apartments for rent."

Jensen knocked on the door and an old man, older than his father had been when he died, answered. "You just get out?"

Jensen wasn't sure if he should come in or not, he took half a step forward, but then moved back again, nodding while staring at the floor. "Well, come on then, lemme show you."

He walked up the narrow staircase to the third floor. The man unlocked to door to reveal a small room, smaller than most motels, with a bed in the corner, and a cheap drywall separating the bed from a kitchen, an old sofa backed against the divider with an older television on a dresser in front of the TV.

"Rent's $150.00 a week, ten bucks less if you don't want cable, but since you shouldn't drink, can't hang out with convicts and can't get high, I'm guessin' you wanna watch TV, huh?"

Jensen nodded with a shrug. He stepped in and looked around. It was cheaper than the motel. The man dropped a sheet of paper and a pen on the round table located in the corner of the kitchen, beside the bathroom door.

"Sign this, first and last's required. No loud parties, no on else spends the night, and no food layin' around. Don't wanna have to keep calling the exterminator."

Jensen signed and pulled three one hundred dollar bills out of his wallet.

The man put the sheet down again, underlining one part. "That's your mailing address and if you sign above my name, where it says tenant, you'll have proof of residence. Handy, for parole officers and the like. There are a couple of dishes and a few pots and pans in the cabinet above the stove. The refrigerator's been cleaned out and works. So, here's your key. Welcome home."

Jensen nodded, not saying anything else. The fluorescent light in the kitchen hummed. He moved over to the bed, there was a blanket but no sheets and a scratchy material covering the pillows. He locked the door behind his landlord, Thomas Jackson, and took the back of a page of instructions for calling to check his drug test status and started a list of things he needed to do, things he needed to buy.

It was all a little overwhelming and after twenty minutes of staring at a list of tasks he didn't even know how to start, he turned on the television. He tried to sleep but it was too quiet and he woke up several times, startled and panicked about what was happening. He gave up and locked up behind himself, leaving most of his money tucked under a drawer in the living room.

He ducked into a convenience store three blocks over and found what he was looking for immediately; he spent less than a hundred dollars. He had a phone number and enough minutes to get him through for a while. He'd be able to add minutes as he needed them. As soon as he got home he followed the directions to check his testing status but he needed a password, which he didn't have yet. He put the phone on the charger and sat silently at the table listening to the clock over the television tick the seconds off.

He microwaved the frozen burrito, and showered, enjoying the luxury of quiet and solitude in the shower, even without soap or shampoo.

It was after nine in the morning by the time he got dressed. He could feel the confusion building again. The best part of prison was that most of the time, there was no confusion. You knew where you were supposed to be, who you should talk to, who you shouldn't. If anyone tried to touch you, just punch them. There'd be a fight, and yelling, but that could be ignored. Yelling was easy to ignore when you were focused on the fight. Jensen missed that.

He sifted through the resource packet again. There was a gym about half a dozen blocks down. He went to check it out. He needed a job, maybe they'd be hiring.




Jared was sitting with his feet up, hair still wet from the shower, eating a danish and following it with a protein shake. The monitors showed an almost entirely empty gym, but at ten am on a Wednesday, that was to be expected. A few truly dedicated athletes, and a few men who worked nights and… "Bowie, who's working the heavy bag on camera four?"

Bowie leaned over Jared's shoulder, his blonde hair falling in Jared's face. "Dude, I'm eating, pull that shit back or something."

"Sorry, man. That dude?" He pointed at Jensen.

"Yeah, he a member?"

"Not that I know. He's…wow, he's good though. Must be a visitor from another gym."

"Yeah, maybe, but look, he leaves his left side open. Good, but not well trained."

"Want me to sign him up?"

Jared shoved the last of his danish in his mouth and picked up his coffee mug and a bottle of water. "Nah, I'll do it, you get those invoices together, and call Dré about the fights next week. Get a final count."

Jared approached slowly, not wanting to fuck with someone in the zone, and this kid seemed to be completely immersed in whatever he was doing. It wasn't any formal move Jared recognized, more a combo of several. He put his coffee down and pushed his arm right into the hole the kid was leaving on his left side.

Before Jared had time to really process it, his arm was isolated, his elbow at risk of over extending, hard pressure tugging at his shoulder let him know that just the right move now and he'd be wearing a sling for a while. There was a growl in his ear. "Don't touch me."

"Okay, hey, I'm just… I own the place; I was just… bad move on my part. I get that."

Jared stood back, the guy turned to face him and he'd have to reassess the kid. He was in his early to mid twenties, green eyes, his chest heaving as he caught his breath. Jared handed him the water. "C'mon, have a seat." He motioned to the bench against the wall. "I didn't mean to scare you."

Jensen nodded, all the fight going out of him, physically changing his appearance back to the kid he'd first seen. He drained most of the bottle in one pull.

"So," Jared said, taking a sip of his coffee while assessing Jensen. "I'm Jared."

"Jensen."

"Haven't seen you here before."

Jensen reached into his pocket and held out a folded piece of paper. Jared had seen it before. He took a cursory glance. "When'd you get out?"

"Yesterday."

"You got a place to stay?" Jared wasn't sure why he was asking, wasn't like there was anything he could do if the answer was no.

"Yeah, over on Adams."

"One of Tom Jackson's places?"

Jensen's eyes widened.

"He has like twenty of those rooming houses. He's honest though, pay your rent you'll be all right, least that's what I hear. So who'd you train with?"

Jensen stared at the floor. "My dad taught me."

"Old school boxing, gloves an all I'll bet."

Jensen gave a half nod and Jared wondered why Jensen didn't talk.

"So you looking for a club?"

Jensen's head snapped up. "I'm not in a club."

"No, no, not… prison club, I just mean a place to train, to learn."

"I don't want to hit people."

It was so quiet Jared almost didn't hear it.

"This is a boxing club."

Jensen nodded and moved to leave.

"Jensen. It's not about hurting people. I'm not asking you to… you should be training. You've got some skill and a whole lotta talent. Come back any time."

Jensen pulled out his wallet but Jared waved him off. "Just, come back when you need to hit something. Or when you just want to. Looks like I'm doing a civic duty keeping those fists out of action."

Jensen gave a half smile, his shoulders hunched, his hands in his pockets. Jared could still feel where his hands had gripped his wrist, pressed into his back. He was strong, and graceful, and he chose to hide it and there was probably a story there but hell, who didn't have a story? What Jared knew was if he could get him in the ring, they'd both make good money.

"And Jensen, next time, wear some workout gear."

Jensen didn't respond; Jared wasn't sure he'd ever see him again.




Jensen stopped at a grocery store on the way home and by the time he was finished watching one of those small claims court shows he'd eaten two bologna sandwiches. He had to meet with his probation officer tomorrow and he needed to prove he'd been looking for a job.

He'd grabbed the free employment listings, circling the ones that looked likely; factory workers, fast food restaurants. They all seemed to have websites he was supposed to visit to fill out the application. He knew all of those applications would have that dreaded box, "have you ever been convicted of major crime?" He shoved the paper away, flopped onto his back and stared at the ceiling, eventually turning off the TV in an attempt to sleep.

Four hours later he was no further along in his goals for sleep than he was for work.

He fished his phone out of his pocket and stared at it, wondering if there was anyone he could call. He mentally flipped through names, old friends from school, people he'd lost touch with before his dad had gotten sick. He had a couple of cousins somewhere, but he hadn't seen them in about five years. Way before he'd gone away. Jimmy, his one buddy who'd stuck by him, helped him with his schemes, but Jimmy died of an overdose while Jensen was inside.

He missed his father like he missed air. It was only five thirty on his first full day of freedom and he knew that this whole thing wasn't going to work. He should be back inside, where someone would feed him, and tell him where to go. It might be loud and confusing, but the outside was even louder and more confusing.

He went to the library. It was almost twenty blocks away, but the resource guide said it would let him use the computer. He needed a job. If he let himself fall like this again, if he let the blackness take over, he wasn't sure he'd ever find his way out this time, and even if he did… the decisions he'd made last time… he didn't want to face those kinds of consequences again.

He needed to go do something harmless before he made a decision. His decisions were never harmless.




Jared replayed the footage for a third time. Bowie was sitting on the couch, staring at Jared more than the monitor. "He's not bad."

Bowie shrugged. "We've already agreed that he's 'not bad'. We've also come to the conclusion that he 'has potential' and that he was 'trained old school'. Why are we still watching this?"

Jared glared at him. They may be good friends and business partners, but that didn't mean they always have to agree. "Because I think he's got enough potential that we should consider taking on training him."

"And the fact that he's that good looking has nothing to do with it?"

Jared studied the screen, refusing to meet Bowie's eyes. "When did you start to decide how good looking guys are?"

"When you start mooning over a five minute replay of one of them hitting the heavy bag. He's good looking. Fuck him, buy him flowers, do both, just don't pretend that you want to train him because it's what's best for the club."

"It is what's best for the club. And okay, maybe he's you know, not ugly, but that's not why I went downstairs to meet him in the first place."

"Whatever. Is he a member?"

"No. He got our info of that resource list."

"He's an ex-con? Shit Jared, forget what I said about buying him flowers, or fucking him. Stay the hell away. You don't need that shit. The club doesn't need that shit."

"The club does need that shit, and for the last time, Bow, I'm not trying to fuck him."

"Well, good, but odds are, he'll be back inside soon, so don't invest too much in the guy, you know, financially or otherwise."

"Ever the pessimist."

"Realist," Bowie corrected, flipping the screen to the current view. "Well, looks like my five-thirty training group is ready."

Jared waved him off and switched back to re-watch his interaction with Jensen again. The way he stood, shoulders hunched, feet almost shuffling, never quite making eye contact. After another twenty minutes he shoved a handful of Gummy Worms into his mouth and started setting up for the kids' session he ran at six.



>

The library was big but most of it was dedicated to a children's section painted in bright colors. There were two rows of carrels in the center. Most were occupied but one at the end was free. He had his sheet of sites and typed one into the address bar. He didn't really know how to type, so it was slow going. It was an hour later when he'd finally finished the one application for Arby's. He wasn't even sure if there was an Arby's anywhere near his apartment. He was getting ready to start on another one when he felt a hand on his shoulder. He froze.

"Sir, do you have a library card?"

He looked up at a dark haired woman with a stern expression. He bit his lower lip. "No. I'm sorry."

He moved to leave but she kept her hand lightly on his shoulder. "Do you live around here?"

"Yes?"

"Well, okay, if you just want to come over here we can get you a card, and then you're welcome to use the library. You can use the computers for two hours at a time, and take out up to seven books." She smiled and he took the pen she handed him.

He filled out the information, pulling out the lease because he forgot his address. She smiled. "See, you have proof of residency too. You're awfully smart to think ahead."

He didn't say anything. Jensen did a lot of things, but thinking ahead was the one area where he knew he failed. He pushed the application back to her and ten minutes later he had a bright green library card and a smaller version that fit on his keychain.

He put it in his wallet, and was winding the small one onto his key ring when she tilted her head. "I'm Lizzie, the circulation director. Did you just get out?"

He shoved his hands in his pockets and dropped his head again. "Is it that obvious?"

"Only to someone who knows what to look for. So I guess you're looking for work?"

He nodded again and she pulled a sheet of bright pink paper towards her, writing down an address in flourished script. "This is my brother's place. Ask for Benny, tell him Lizzie sent you. He may have a place for you."

"I got an apartment."

She smiled, and this time her hand was on his elbow. "No, honey, a place for you to work. Don't you want to be able to tell your PO you got a place to live and a job next time you see him?"

Jensen nodded. Really, right now, he couldn't think beyond that. "Well, you go see my brother, and then you come back here. I want to know how it went. And we'll see if we can't find you something to read."

Jensen left, following her directions to the letter. Benny the Bum's was a steak house featuring a rowdy bar, peanut shells on the floor and live music on Fridays and Saturdays. When Jensen got there people were just being seated for dinner and the bar was packed three deep. He almost turned to leave but a large guy dressed all in black grabbed his arm.

Jensen's hand balled into a fist. He was about to take a swing when someone behind him grabbed his forearm, taking the pink paper from him. "Lizzie send you?"

Jensen nodded and someone yelled loudly for Benny.

Benny was a tall thin man. His height and wiry frame were accentuated by his all black ensemble, his shoulder length layered hair and goatee, also black. He pointed at Jensen but turned towards the doorman. "Lizzie sent him?"

And then Jensen was following Benny, weaving through rowdy customers and harried servers until they were in a small room in the back. "You just get out?"

Jensen nodded.

"How long ago?"

"Yesterday."

"You ever wait tables before?"

"No, sir."

"Gonna have to start you off as a dishwasher. Just lost one last week, so you're lucky."

"Thanks."

"I'm open 'til two but the kitchen closes at ten; that means you get off at eleven. You start at three. Pays minimum wage."

"Okay."

"You need something to take to your PO, proof you got a job?"

"Um, yeah."

"Okay, gimme a minute. Three to eleven, on your feet the whole time, and working, I don't have time to pay humps who don't work."

"I'll work."

"Good." Benny shoved an envelope at him. "Proof of employment, and some forms you gotta fill out. If your PO won't help you ask Lizzie, she's a soft touch. She's also my sister, so don't go gettin' no ideas."

"I won't."

Benny took him back out to the kitchen, showing him the dishwashing station. "Doesn't take training, it's just washing dishes."

"Yes sir."

"And stop calling me sir. I'm Benny."

"Yes, Benny."

"You gonna be able to get here?"

Jensen nodded. "It's close to where I'm staying."

"Okay, now go back to Lizzie, she'll yell at the both of us if we don't report how this meeting went."

Jensen nodded

"Oh, and Jensen."

Jensen looked over. "We all wear all black. So…" Benny waved a hand up and down, encompassing Jensen's faded jeans, scuffed sneakers, and blue t-shirt.

Jensen swallowed hard and nodded.

Lizzie helped him apply to get a copy of his birth certificate, and said once he got that, he could get a driver's license and then a Social Security card. In the meantime she helped him fill out his W4 form and then started asking about his favorite books.

Jensen tried to remember his favorite books but couldn't think of any. "Um, I didn't read much."

"What about before, when you were in school?"

"I um… I wasn't a very good student. I can fix things. Small engines, electrical. But…"

She sat him down and then brought a few books over to him. "Do you like science-fiction?"

"Um, sure."

She handed him a book and told him the summary was on the back. He didn't see anything but more words. He started to read the back, slowly, his face going red, he could feel it. Any minute now she was going to ask him to read out loud. She never did. She took four books, she said they were in different "genres" and handed them to him. "You've got to have them back in three weeks but if you're done early, or you just don't like the book, you can bring it back earlier. And Jensen… you can come by anytime just to use the computers or read the magazines."

Jensen nodded and left, it was almost nine. He had a bowl of cereal and opened one of the books.

He was halfway finished by morning; he'd even managed to sleep for a few hours.





Jensen showered and dressed in the same clothes he'd worn yesterday, the only clothes he had. It was a little after seven. His appointment with his PO wasn't until nine thirty. He headed towards the gym, hoping that guy who owned it, Jared, wasn't there. He still didn't have workout gear.

He knew there were methods of training that didn't involve waling on something that couldn't hit back, but he wasn't interested in footwork or fancy moves, he just wanted to punch and kick until he was too tired to be angry anymore. Until he was sure he wouldn't do it to a real person.

He was jabbing at where the nose would be, over and over, when Jared approached him. He sighed.




Jared saw Jensen come in and unlike most members, he didn't change, or warm up, he just started beating the shit out of the corner bag as if it had personally insulted his mother. He waited to see if he would get it out of his system but Jensen just started jabbing over and over again until Jared was worried both for his equipment and Jensen's unwrapped hand, and his wrist which he was holding too tight. He was asking for tendon damage, or a sprain.

He approached slowly, not coming in from behind, or even in Jensen's peripheral. Eventually Jensen seemed to notice him. He wiped the sweat from his forehead and now, without the hoody, Jared could see the curls of a tattoo creeping up Jensen's neck. The dark graceful ink accentuated the elegant curve where his neck met his shoulder and Jared inhaled sharply and then smiled. "You came back."

Jensen stared at the floor, his breathing rapid, his hands slowly unfurling from the tightly held fists he'd been holding. "Sorry."

"No, no, I'm glad you did. Hey, you know, if you don't tighten the fist 'til you have to, you'll save a lot of strain on your knuckles. Those joints can be a bitch once they go."

Jensen looked up at him. "What?"

Jared reached out tentatively. "Can I?" touching Jensen's wrist lightly.

Jensen didn't pull away, or punch him. Jared took that as a good sign. "See, if you make a loose fist." He curled his hand over Jensen's, demonstrating and guiding, "then you don't end up with your bones creaking when you're done."

"Oh."

"Yeah, I'd really like to show you some stuff. If you'll let me."

"For money."

"Club membership is ten bucks a week; that includes locker rental and use of the showers, but it also means you're eligible to be put on the roster when we fight other clubs."

"I don't wanna fight anybody."

"Okay, cool. I'd still like to train you though. You could get hurt in a fight like that. I can teach you a few tricks."

"I can't fight anyone, I'm on parole."

"Yeah, I know, but, can't always control who gets in our face though, can we?"

Jensen moved back to a fighting stance in front of the bag. He held his fists up, looser this time, and kicked at the bag, his foot hitting the same spot over and over. The kid had accuracy, and strength, that was for damn sure.

"Just come in, any time you want. We're open from seven am to eleven at night. It looks like you could use a place to just punch things."

Jensen almost smiled, switched his stance and started kicking with his left foot. He was just as accurate.

Jared wandered around the rest of the gym. Ronnie was running her women's safety group. The men bitched about girls in the club, not Ronnie; they barely factored her as a girl, her bravado outweighing her tits in their calculations. Jared loved it, the women's group was lively, and the men who followed their wives or girlfriends usually stayed to try their hand at fighting. Everyone left happy and the club flourished.




Jensen had to switch busses twice to get to the office of Probation and Parole. He kept checking the directions on the sheet they'd given him, and looked up every time the bus stopped, worried he'd miss a stop, but he managed to focus, even with the baby crying in the back of the bus, and the two women talking in a language he couldn't understand and so many people squeezing past him. The bus was full when a girl, couldn't be more than 18, heavily pregnant, got on. No one moved. Jensen stared at his hands for a second, he didn't want to cause a problem but he could hear his father in his head, telling him to get the hell up, offer the poor girl a seat, so he did.

She glared at him for a second and then sat down. "Thanks."

He nodded and stared in the opposite direction, refusing to make eye contact.

He was looking for the right office; the building was huge, trying to read the directory on the wall was hard. Everyone was moving quickly, they knew where they were going, and what they had to do. He took a deep breath, found the right spot and took the stairs. He wasn't a fan of elevators.

When he got to the third floor the noise was deafening. All the Parole officers' 'offices' were open to the center of the room, no doors. They floor was a murky green linoleum, the walls were painted mint green and the glass that started at the top of the cube wall and reached almost to the ceiling was bottle green. Jensen felt as if he'd stepped under water.

There was a line of men and women, all of them looking aggravated, standing to the right. An angry looking black woman at a desk by the door. She called out.

"Excuse me. Excuse Me! "

Jensen stopped. "Me?"

"Yeah, you. Who you here to see?"

"Um, my parole officer."

"Last name?"

"Ackles. Jensen."

"Not your last name. His."

"I don't…" Jensen shuffled through the papers looking for the information until they all fell out of his shaking hands, scattering across the floor. Someone walked across them. No one stopped to help. He pulled them all together and finally found the information. "Washington."

She handed him a slip. "Give him a couple minutes. There are a few people ahead of you. They got here on time."

Jensen nodded. He'd been here on time too. He just hadn't known it was a half a mile walk from the front of the complex to this building and that he'd be confused once he got here. He tried to organize his papers again, and could feel the tension growing in his gut.

A half hour later his Parole Officer, a tall black man in an ill-fitting button down, khakis and a shoulder holster shook his hand.

"Jensen, good to meet you. Have a seat."

Jensen sat.

"You speak English?"

"Yes."

"Good. Here are some forms to fill out for next time. You have to be here once a week, this time okay for you?"

Jensen nodded.

"Okay, so you call in daily to find out if you have to come down to give a sample for a piss test. You can drink, but if you get taken in for anything, assault, drunk and disorderly, DUI, you're back inside, so it's best if you don't. You can't do drugs, they're illegal and they'll show up on your piss test. Heroin, crank, crack, whatever. Yes, weed is a drug; it'll hang around for a month. Don't smoke while you're on parole."

Jensen opened his mouth to explain that he didn't do drugs but Mr. Washington didn't stop his rapid fire instructions, just added, "I'm sure you don't do drugs, that's great, it'll make it easier to continue not to do them.

"You got a place to live? A Job?"

Jensen pushed the documents towards him and he nodded. "Gonna make a copy of these, have to call and confirm so you better be on the up and up."

Jensen nodded again.

"You fucked up. Got caught, here's your second chance. This was your first time in, and statistics say you'll be back. It's up to you if they're right or not. I can't keep you out of trouble." With that he walked away and Jensen shuffled the rest of his papers, put them in the folder he'd just been handed, with the directions as to how to get here on top. He'd have to stop outside and reverse them to make sure he didn't get lost going home.

Mr. Washington handed him his lease and Benny's proof of employment back. "You're access number is 662544, your color is red. You need to know that. It's on the paperwork I gave you. You got any questions?"

Jensen shook his head and Mr. Washington gave a broad smile. "You got a place to live and a place to work. You're ahead of the game. Have good week."

Jensen nodded and left; when he got back to the first floor there was someone behind the large information desk. He walked up, expecting her to snap at him. She didn't.

"You need to find your way back?"

He nodded and she handed him a Xeroxed map that outlined the route. There were a couple of large red X marks. "This one is a local shelter intake if you need it. This one is the office of Social Security, in case you need food stamps. This is the Salvation Army, if you need clothes and stuff, there's a big Wal-Mart across the street from that. And then you just catch the C-9 right into the city."

"Thanks."

"No problem. And smile. You're out now."

Jensen gave a half hearted smile and got to the front of the complex just as the bus pulled up.

When he got off the bus he thought he'd really like one of those iPod things, the ones that would block out the other sounds. It all got confusing.

He found the Salvation Army and sifted through the clothes, choosing two black t-shirts, one a little too small, one a little too large, neither more than three dollars. He found a pair of black pants, and a pair of black jeans. The pants were a little long, but the jeans fit pretty well. He chewed on his lower lip, not sure if he was going back to the gym or not. If not, he didn't want to waste his money, but there was a pair of sweat pants, brand new and marked irregular, in a dark green.

He asked the elderly woman behind the counter if they sold sheets and she was helpful.

"What size bed, dear?"

"Um…"

"Is it just a single, narrow?"

"No, it's big enough for two, I think." He blushed.

"So a full, or a queen." She asked him a bunch of questions that he wasn't sure would help, but in the end she decided it was a full and for five dollars he bought a fitted sheet and two pillow cases in a blue and brown plaid.

He looked at shoes, but there was nothing black in his size. He was headed towards the register when he stopped and crouched by the backpacks, flooding with memories of his mother putting notes in his, or sticking a cupcake in the front pocket. He chose an old green one, it had some marks on it where a kid had scribbled, but the zippers worked and it was sturdy. He put all his purchases, and then his folder, into the backpack and headed to Wal-Mart.

He started with shoes, and found a cheap pair of black sneakers pretty quickly. Shampoo and conditioner, deodorant, a comb, some razors, dish soap, the cost and weight of the purchase was building, so he stopped He needed one more thing and then he was going home to read, quietly, with no crying children, or shopping cart traffic, or the glares he could feel digging into his back.

He reached for what he knew he needed and it wasn't there. Since he could remember his mother had been buying him socks that came in a clear bag with a green top. She'd bought the same kind for him and his dad. When she died, his dad kept buying them the same kind. When his dad got sick, Jensen had bought them. And now, he couldn't find them. He couldn't remember the brand; he just knew they were the ones with the bright green band on the top of the bag. The socks themselves were just regular calf height socks. He remembered his father talking about cotton, how you couldn't work on your feet and be healthy with all that rayon and polyester and cotton was the thing.

He tried to read the labels but the words were tiny and he wasn't really great at seeing small print up close. Sometimes the content wasn't even in English.

He finally found what he thought he needed, there were two brands, one fifty cents less for a pack of ten than the other. He stared, and in the long run, considering the other purchases he'd made, chose the cheaper of the two, also choosing that brand for a pack of colored t-shirts, navy, gray and black, and a four pack of boxer briefs, same colors. He headed to the registers. A half hour later he was waiting for the bus to take him home. It didn't feel like home, but then, he knew, it was his own fault he didn't have a home.




Jared couldn't stop thinking about Jensen. Every time he looked at that corner of the gym he remembered Jensen's hand in his, pliable, soft, not callused the way you'd imagine of a convict. His expression wary, but often more apologetic than anything. Ronnie snuck up behind him, wrapping her arms around him and then moving quickly into a half-nelson.

Jared laughed, using his height advantage to bust her hold and grab her by the shoulder, performing a leg sweep to bring her down. She countered by gripping him at the knee until they were both on the floor. She tried to isolate his knee but he twisted out of the hold, using his extended reach to wrap an arm around her waist and grip her wrist. She was on the floor, her face turned to the side, Jared's knee in her back.

A crowd of club members had gathered and Jared knew he was in trouble. No way was she tapping out and letting him win, even this friendly tussle, and sure enough, her foot hit the small of his back, her body twisted just as his knee let up its pressure. She bounced to her feet, hands guarding her face, Jared circling.

"You're sinking so low you're picking on girls now?"

"You hit me first."

She smiled, it was wolfish, and Jared tilted his neck to either side, feeling the crack. Smiling right back at her. "You ready?"

"I don't start things I'm not gonna finish."

The circle around them was deeper now. Everyone was watching and Bowie had elbowed his way through but they both knew he was just gonna ref the thing, not stop it.

Jared made a move, a sharp jab toward her face.

She leaned back far enough that he did almost no damage and then lunged in under his elbows and tried to take him down.

He pushed back, wrapping an arm around one of her legs. She stepped forward, he pulled her leg straight and she went down. He had her down but she got him on his back and managed to isolate his left elbow, holding him in an armbar, her eyebrow arched.

He tapped out. She laughed and stood up, offering him a hand. He took it.

She sighed, letting her hair down from the clip, running her fingers through it; twisting it again and tucking it back up. "You're getting sloppy."

"Nah, I just forgot how to fight like a girl."

She punched his arm and then glared at their audience. "You all here to watch us, or to get on the next roster?"

The crowd dispersed, Ronnie went to coach one of her men, and Bowie followed Jared upstairs to the office.

"What's up?"

Jared got himself a beer and sat back with half an eye on the monitors. "Who said anything's up?"

"Well, you lost to Ronnie, which, you know, you usually hate, and you haven't talked about the ex-con dreamboat all day, even though he was here at seven thirty this morning."

"Jesus, I think he has talent. I'm not fucking mooning over him."

"Okay, just… I know how you get and this guy… you don't know, he could be dangerous, he could be a fucking psycho. He fights like he needs to kill something."

"Yeah, well, who doesn't?"

Bowie shrugged, "I'm gonna go work with Mitch and Steve, see if I can get a sparring session going. You coming?"

Jared nodded but made no move. Bowie closed the door behind him.




NEXT





HTML Hit Counter